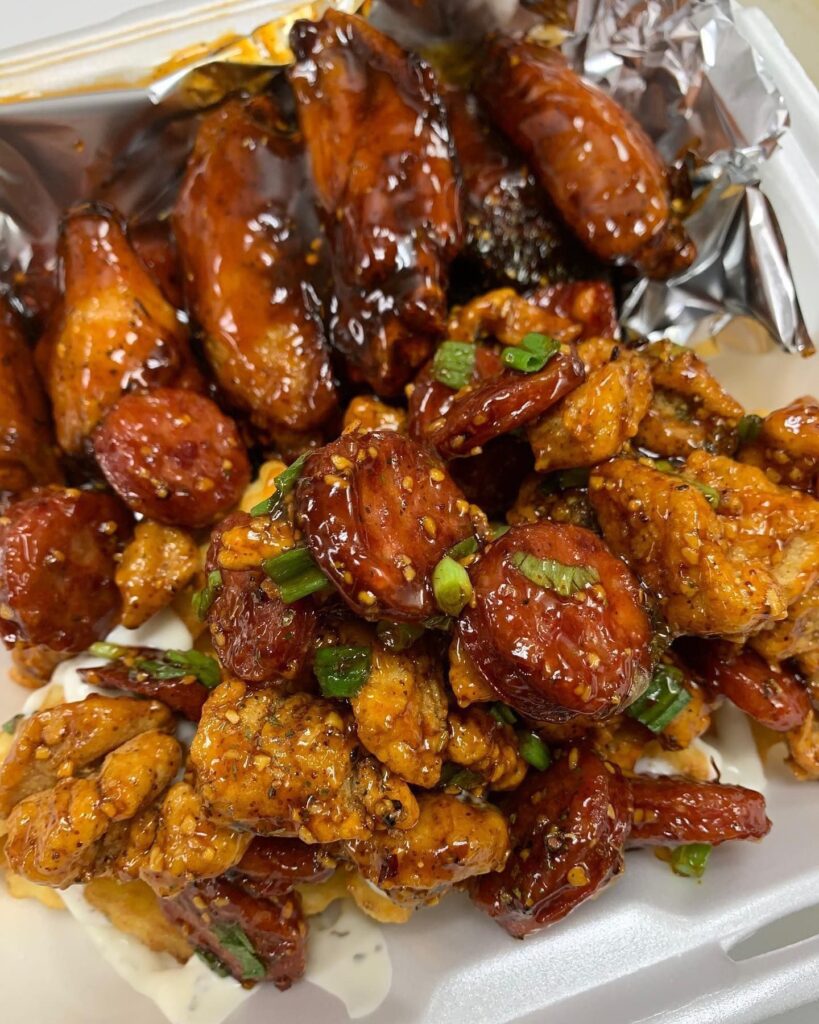 Ingredients:
Salt To Taste (Add Small Amount)
Ground Black Pepper To Taste
All-Purpose Flour To Coat
1 Tbsp Ginger Grated or Finely Chopped
1/4-1/2 Tsp Red Chili Flakes
2 tablespoons soy sauce (I use reduced sodium)
1 tablespoon freshly grated ginger
1 tablespoon hot sauce of choice (I usually use sriracha)
2 (12-16 oz) packages smoked sausages, cut into 1″ slices
4-5 cloves garlic, minced
Directions:
Season the chicken with salt, and ground black pepper to taste. (Be careful not to over salt)
Combe the seasoning with chicken and coat with flour.
Deep fry the chicken until throughly cooked.
Remove the chicken and place it onto a paper towel lined plate.
Using a small bowl add honey, soy sauce, ginger, garlic, water, cornstarch, chili flakes, and combine all the ingredients before adding it to a saucepan.
Continuously stir the sauce mixture on medium flame until the sauce thickens.
Add the chicken wings to the sauce pan and coat with the honey garlic sauce.
Garnish with dried parsley.
In a small bowl combine the ketchup, honey, soy sauce, ginger, hot sauce, and sesame oil; set aside.
In a large skillet heat the olive oil over medium to medium low heat. Add sausages; cook stirring frequently, until browned. (about 8-10 minutes) Add minced garlic and cook, stirring constantly, for 1 minute. Add reserved sauce and cook until bubbly.