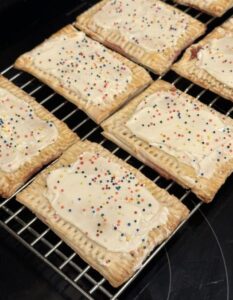 Homemade Strawberry Pop-Tarts
Mini Presentation: Get ready to embark on a delightful homemade pastry adventure with our Homemade Strawberry Pop-Tarts! With just a few simple ingredients, you can create a batch of delicious, flaky pop-tarts that are far better than the store-bought versions. These pop-tarts feature a sweet strawberry jelly filling, a golden, flaky crust, and colorful sprinkles. Your kids (and you) will love making and enjoying these treats.
Ingredients:
Two boxes of premade pie crust
Strawberry jelly (or your favorite flavor)
One egg
Frosting (store-bought or homemade)
Sprinkles
Instructions:
Preheat and Prepare: Preheat your oven to 425°F (220°C) and line a cookie sheet with parchment paper.
Create the Pastry: Unroll the pie crusts and cut them into the desired pop-tart size. You should have 16 individual crust pieces.
Add the Filling: Lay 8 of the crust pieces on the prepared cookie sheet. On each of these pieces, add approximately 1 teaspoon of strawberry jelly and spread it evenly, leaving a border around the edges.
Seal and Vent: Place the remaining 8 crust pieces on top of the jelly-covered ones. Use a fork to crimp the edges, sealing the pop-tarts. Then, use a toothpick to poke a few holes in the top of each one to allow steam to escape during baking.
Egg Wash: Create an egg wash by beating one egg. Brush the egg wash over the top of each pop-tart. This will give them a beautiful golden color as they bake.
Bake and Cool: Bake the pop-tarts in the preheated oven for 7-8 minutes or until they are lightly golden brown. Once they're done, transfer them to a wire cooling rack and allow them to cool.
Frost and Sprinkle: Once the pop-tarts have cooled, it's time to add frosting. You can use store-bought frosting or prepare your own. Decorate the pop-tarts with colorful sprinkles to make them even more fun and inviting.
Enjoy: These homemade pop-tarts are a hit with kids and adults alike. You can store any leftovers in the refrigerator and warm them up whenever you're ready to enjoy a tasty, homemade treat.
Make these Strawberry Pop-Tarts a part of your baking routine, and enjoy the delight of a sweet, fruity filling wrapped in a golden, flaky crust. They're perfect for breakfast, brunch, or a sweet snack. Happy baking! 🍓🥮😋