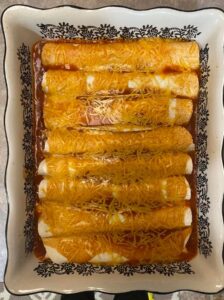 Homemade Frito Chili Cheese Wrap
Mini Presentation: Are you a fan of the Frito Chili Cheese Wrap from Sonic? Now you can recreate that tasty experience at home with our Homemade Frito Chili Cheese Wrap! It's incredibly easy and utterly delicious. Warm flour tortillas, savory chili, crispy Fritos, diced red onions, and shredded cheddar cheese come together to satisfy your cravings. This quick and satisfying wrap is perfect for a quick lunch or a snack.
Ingredients:
Flour tortillas
Fritos corn chips
Chili without beans (Hormel is a great choice)
Diced red onion
Shredded cheddar cheese
Instructions:
Warm your flour tortillas for a few seconds in the microwave to make them pliable.
Heat the chili, either on the stovetop or in the microwave until it's warm and ready to use.
Lay out your warm tortilla and start by placing a generous handful of Fritos corn chips in the center.
Spoon some of the warm chili over the Fritos, adding a satisfying layer of savory goodness.
Sprinkle a handful of diced red onions over the chili, adding a zesty crunch to your wrap.
Don't forget the shredded cheddar cheese! Sprinkle it over the top of your chili, where it will melt into gooey perfection.
Now, here's a pro tip: Be careful not to overfill your wrap; you want to make sure you can fold it up like a burrito without spilling all the deliciousness.
Gently fold up your tortilla, securing all the flavorful ingredients inside.
Enjoy your Homemade Frito Chili Cheese Wrap! The combination of textures and flavors is sure to satisfy your cravings for a quick and delicious meal.
Whether it's lunchtime or snack time, this Homemade Frito Chili Cheese Wrap is a tasty and convenient choice that captures the essence of fast food right in your own kitchen. Bon appétit! 🌮🧀😋