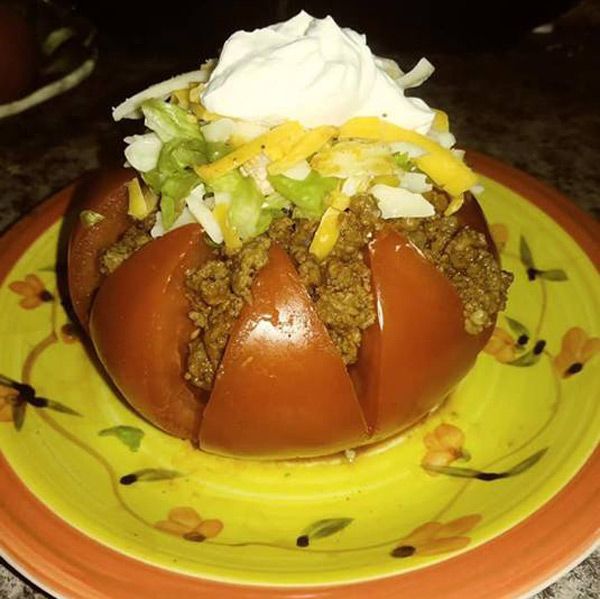 Healthy Taco Stuffed Tomatoes, If you have been following me for any amount of time, it's no secret that I LOVE me Taco Tuesday. While I love flour tortillas, corn chips, and rice sometimes I like to mix things up, especially since I began eating healthier.
A few weeks ago, I was on a mission to find a unique variation for tacos (okay, I know it's not THAT unique, but bear with me). We've done the cauliflower rice thing (multiple upon multiple times) and while I enjoy it, the rest of my family hasn't quite jumped on the cauliflower rice train yet. Also, local tomatoes are starting to make an appearance at grocery stores and farmer's markets. I LOVE LOCAL TOMATOES. I've been known to eat them like an apple. So I decided to combine two of my favorite things. Enter Taco Stuffed TOMATOES.
Now I realize this is not actually unique at all. But here's the deal: I'm not the biggest fan of stuffed peppers so I always kind of avoided the whole stuffed thing (unless you count Manicotti, then I'm game). I have to say though after trying out this recipe, I'm pretty sad that I have missed out on so much stuffed goodness. Have I mentioned this recipe has some hidden spinach in it as well? Yup, easy to trick those kiddos into eating their veggies. So don't be me, and go make this recipe immediately.
Healthy Taco Stuffed Tomatoes
Now if you are anything like me, you avoid making things that are multiple steps and involve stuffing things. Sometimes recipes that call for stuffing things are just way too complicated for a weeknight dinner. But let me tell you something, this recipe is EASY. I promise you. Have I ever led you astray? The hardest part is scooping out the inside of the tomato, and it really isn't that hard.
Taco Stuffed Tomatoes are easy to whip together and are so delicious you will forget they are super healthy and veggie-filled. This recipe is perfect for a busy weeknight dinner.
Tips & Tricks For Making The Best Tomato Tacos:
Size matters: Depending on the size and shape of the tomatoes you use, you may have to scale the recipe up to accommodate them and make a double batch. Luckily, that's easy to do and leftovers are always welcome.
Make ahead: The filling can be made ahead of time and rewarmed in a skillet or microwave. Stuff the tomatoes right before you plan to eat them.
Don't try to use small tomato varieties like cherry or Roma. You want large, fleshy tomatoes. I like heirloom varieties, but large single tomatoes also work well.
Despite the toppings we've listed in the recipe, taco-stuffed tomatoes are easily customizable. Don't hesitate to experiment with your favorite taco toppings.
Tomatoes can be notoriously hard to cut. Use a sharp pairing knife to get precise cuts. A dull blade can get you hurt, and can also squish your tomato in the process.
We like raw onions on ours, but you can also cook them with ground beef for more flavor, and less bite.
Ingredients:
4-6 large tomatoes
1 pound of ground beef
2 tablespoons taco seasoning
4 cups spinach, chopped
1/2 cup corn *fresh or frozen
1/4 cup sharp cheddar cheese *optional
1 tablespoon cilantro, chopped
Instructions:
1. Preheat the oven to 375.
2. Slice the top off the tomatoes and scoop out all the pulp. Place in a baking dish.
3. Brown the ground beef in a large saute pan. Once cooked through, add the taco seasoning.
4. Add the spinach and corn. Cook until the spinach is wilted and everything is fully mixed together.
5. Stuff the tomatoes with the beef mixture. Use any leftover beef in the bottom of the baking dish.
6. Sprinkle with cheese.
7. Bake for 15 minutes or until cheese is melted. Top with the cilantro and serve.
Nutrition
Calories: 194kcal
Carbohydrates: 11g
Protein: 12g
Fat: 12g
Saturated Fat: 4g
Cholesterol: 40mg
Sodium: 99mg
Potassium: 594mg
Fiber: 2g
Sugar: 5g
Vitamin A: 1575IU
Vitamin C: 26mg
Calcium: 30mg
Iron: 2mg
IF YOU LIKE THIS RECIPE…YOU MAY ALSO LIKE: