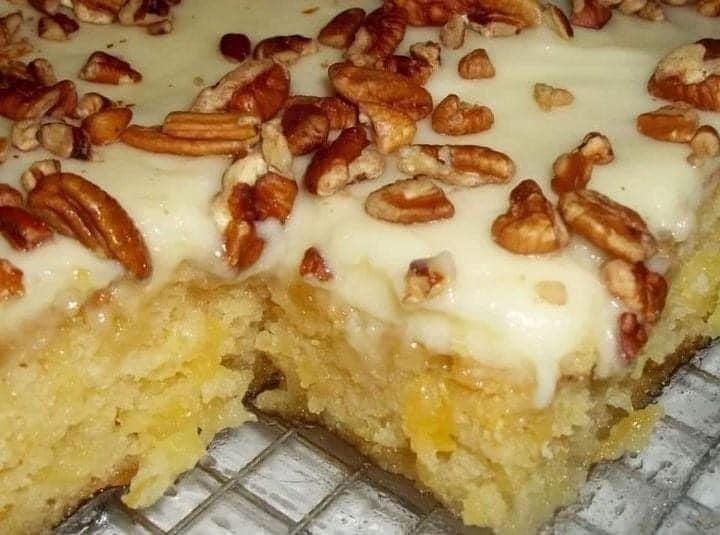 Ingredients :
-for cake
2 cups flour
1¾ cup sugar
2 teaspoons of baking soda
2 eggs
1 x 20 oz / 570 g canned crushed pineapple in its own juice (do not filter the juice)
1 cup sweetened coconut flakes
1 cup chopped walnuts
frost
1 x eight ounces / 225 g soft cream cheese
1 cup / ½ cup / 115 g, softened unsalted butter
A cup of icing sugar (powdered)
2 teaspoons vanilla
a little salt
Directions :
Preheat the oven to 180°C/350°F/Gas 4 and grease a 9 x 13 inch (33 cm x 23 cm) baking tray.
Mix together flour, sugar, baking powder, eggs, chopped pineapple, juice, coconut, and walnuts.
In a large bowl, using your hand, until well blended.
Transfer the baking mixture to a greased baking pan.
Bake for 45 minutes until cooked through.) Cool completely in a pan.
Use an electric mixer to put the cream cheese in a medium bowl and stir until it is creamy.
Add butter, powdered sugar, vanilla extract, and salt, and blend with a blender until smooth.
Spread the cream cheese over the cake and sprinkle with chopped walnuts.
Cut into 24 servings and eat immediately. Or wrap the cake (no more cuts) and refrigerate before serving.