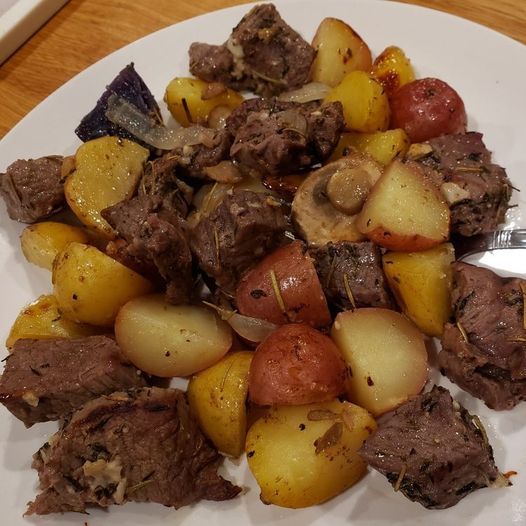 Seasoned garlic steak and potato packets, juicy and tasty, are simply the most perfect healthy and hearty meal, baked or grilled in just 30 minutes!
If you're thinking about foil wrappers, you'll have to try these other delicious foil wrappers such as fajita steak wrappers, salmon wrappers with herbed butter and asparagus, and shrimp wrappers with lemon and herbs and broccoli.
In my mind, there are foods that go together. For example French fries and ketchup. Oreos and peanut butter. Chips and salsa. Diet Coke and cherry syrup. And of course, who could forget the best of all: Steak and potatoes.
I've always been a fan of potatoes, whether mashed, or in pieces and stacked with sour cream, cheese, and bacon, or fried and salted, I agree.
But steak has always been a different story. For years and years, I thought I didn't like steak; I thought it was hard and tasteless. That all changed when, in my late teens, I ate in a Japanese restaurant and devoured a filet mignon in about 2.7 seconds. All it took was an extraordinary steak, cooked the right way, to convince me that the steak was actually quite fantastic after all.
Ingredients:
Sirloin steak 2-2 1/2 pounds, trimmed of its fat and cut into 2 1/2 inch pieces (see note)
1 pound of yellow potatoes, quartered (or cut in half if already less than 1 inch long, see note)
3 tablespoons of olive oil
salt and pepper to taste (I use about 1 teaspoon of salt and 1/4 teaspoon of black pepper)
1 tablespoon chopped garlic
1 teaspoon onion powder
1 teaspoon dried oregano
1 teaspoon of dried parsley
1 teaspoon dried thyme
fresh thyme or parsley for garnish (optional)
PLEASE USE THE NEXT PAGE BUTTON  FOR THE INSTRUCTIONS