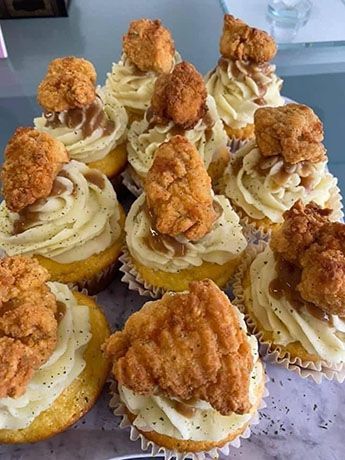 Ingredients:
Cornbread Cupcakes:
• 1 (14.5 Oz.) Can 'No Salt Added' Creamed Corn
• 1 C. Self-Rising Cornmeal
• 2 Egg Whites
• 1/2 C. Reduced Fat Shredded Cheddar Cheese
• Salt & Pepper to Taste
Mashed Potato 'Frosting':
• 1 Large Russet Potato, Peled & Cubed
• 8 Oz. Frozen Cauliflower Florets
• 2 Tbsp. Light Butter
• 2 Tbsp. Chopped Chives
• Salt & Pepper to Taste
Quick Brown Gravy:
• 1 C. Unsalted Beef Broth
• 1 Tsp. Garlic Powder
• 1/2 Tsp. Onion Powder
• 2 Tbsp. Cold Water + 1 1/2 Tbsp. Corn Starch
• Salt & Pepper to Taste
12 Tyson Fun Nuggets or Tyson Chicken Nuggets
Green Onions
Directions:
Preheat the oven to 350 degrees F and line a muffin tin with papers, giving them a light coat of non-stick baking spray. Also, line a baking sheet with foil or a silicone mat for easy cleanup.
Place a large pot of salted water to boil.
Once the pot of water is at a boil, add in the potato and cauliflower florets to bring back to a boil and cook until tender; about 10 minutes.
In a large bowl, mix together the can of creamed corn, 1 C. self-rising cornmeal, 2 egg whites, 1/2 C. shredded cheddar, and salt & pepper to taste.
Divide the cornbread batter evenly among the prepared muffin tin.
Place 12 Tyson Chicken Nuggets or Tyson Fun Nuggets out on the prepared baking sheet and place the baking sheet and muffin tin into the preheated oven. Bake for about 15-20 minutes or until the cornbread muffins are cooked through and the Tyson Chicken Nuggets are done.
When the potato and cauliflower are cooked and tender, drain and beat together with the 2 Tbsp. butter, 2 Tbsp. chopped chives, and salt & pepper to taste.
Transfer the potatoes to a piping bag or large plastic bag with the end cut off.
Remove the Tyson Chicken Nuggets and cornbread muffins from the oven once done and allow them to cool slightly.
While they're cooling, whisk together the 1 C. beef broth, 1 Tsp. garlic powder, and 1/2 Tsp. onion powder together in a small saucepan over medium-high heat.
Bring it to a boil and whisk in the cold water and cornstarch slurry.
Stir and bring it all back to a boil and whisk constantly until thickened into a gravy. Season with salt and pepper to taste and remove from heat.
Remove the cornbread muffins from the tin and pipe the mashed potato 'frosting' on top.
Add a Tyson Chicken Nuggets to the top of each 'cupcake' and drizzle with a bit of the gravy and some chive 'sprinkles' if desired.
Serve right away and enjoy!
IF YOU LIKE THIS RECIPE…YOU MAY ALSO LIKE: