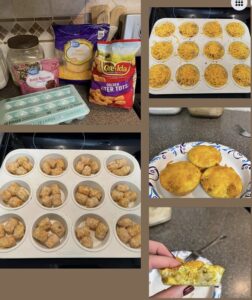 Easy Tater Tot and Egg Bites
Mini Presentation: Looking for a simple and budget-friendly breakfast that's sure to please everyone at the table? Try our Tater Tot and Egg Bites! These tasty morsels are effortless to make and customizable to your liking. Whether you're serving a crowd or preparing a quick morning meal, these bites are a hit.
Ingredients:
Tater tots (frozen)
Eggs (10-12, scrambled)
Bacon pieces
Shredded cheese
Cooking spray
Hot sauce (optional)
Instructions:
Start by preheating your oven to 375°F (190°C) and lightly greasing a muffin tin with cooking spray.
Place 3-4 frozen tater tots into each muffin cup. These will form the crispy base of your egg bites.
In a separate bowl, scramble 10-12 eggs. You can use a 4-cup glass measuring cup for easy pouring.
Evenly pour the scrambled eggs over the tater tots in the muffin tin. The eggs will envelop the tots, creating a satisfying combination.
Sprinkle bacon pieces and shredded cheese on top of each egg bite. This step allows you to customize the flavors and textures according to your preferences.
Bake in the preheated oven until the tops start to turn a delightful golden brown. Keep an eye on them to avoid overcooking. Remember, if the tops get too brown, the eggs may become overdone.
Serve your Tater Tot and Egg Bites as a delicious and hearty breakfast. For those who like a little kick, consider adding hot sauce for an extra layer of flavor.
These Tater Tot and Egg Bites are perfect for a satisfying breakfast that won't break the bank. Whether you're catering to a family or preparing a quick meal for yourself, they're sure to be a crowd-pleaser! 🍳🥓🧀