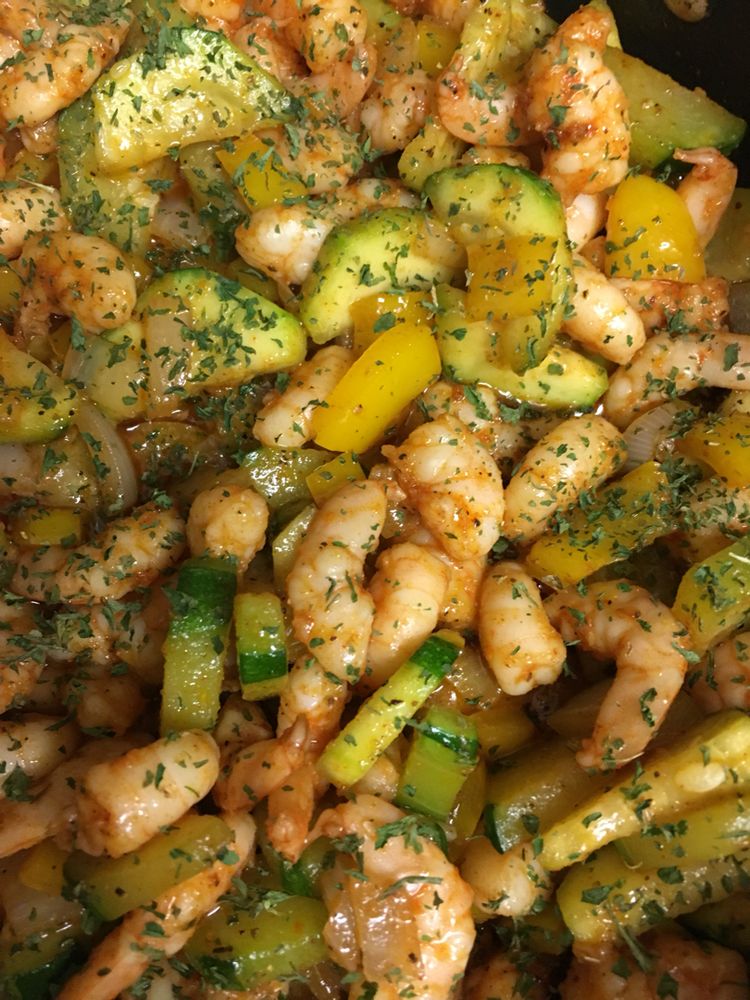 Ingredients:
2 tbsp avocado or olive oil, divided
1 pound raw shrimp, peeled and deveined
1 large zucchini, chopped
½ tsp onion powder
½ tsp smoked paprika
½ tsp garlic powder
1/2 small yellow or white onions, chopped
1 large summer squash, chopped
Fresh chopped parsley for garnishing
1/8 tsp salt
1/8 tsp black pepper
DIRECTIONS :
Step 1: Add the onion powder, garlic powder, smoked paprika, salt, and black pepper in a small bowl. Stir well until everything is combined.
Step 2: Place the shrimp in a large bowl. Sprinkle the spice mixture over and toss to coat the shrimp.
Step 3: Heat 1 tbsp oil in a large skillet over medium heat. Once the oil is shimmering, add the shrimp to the skillet and cook on each side for about a minute or two or until pink. When done, set the cooked shrimp aside to cool.
Step 4: Drizzle another tbsp oil in the same skillet. Add the veggies and cook for approximately 8 minutes, stirring often until the veggies are soft.
Step 5: Return the shrimp to the skillet with the veggies mixture and continue to cook for another minute.
Step 6: Garnish the shrimp zucchini squash skillet with parsley and serve over cauliflower rice or traditional rice. Enjoy!
I created a fun channel on  Telegram and I would love for you to join us! It's a place where you can share YOUR favorite recipes, ask questions, and see what's new at Dinners, Dishes, and Desserts (so that you never miss a new recipe)! If you'd like to check it out, you can request to join HERE