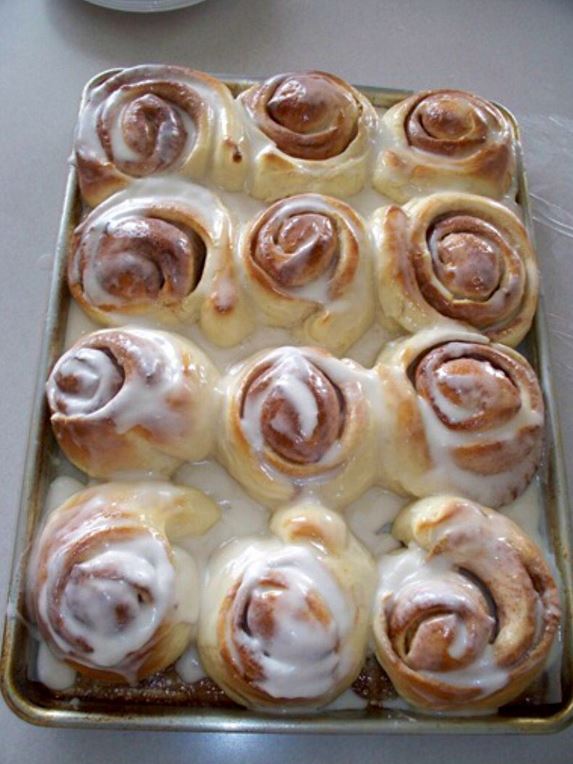 INGREDIENTS :
rolls
2 tsp granulated sugar
1 tsp ground cinnamon
2 1/2 cups Bisquik™️ Original Mix
2/3 cup milk
2 tsp granulated sugar
2 tablespoons butter or softened ghee
1/4 cup raisins
Glaze
1 1/3 cup powdered sugar
2 tablespoons milk
INSTRUCTIONS  :
Prevent your screen from getting dark during cooking.
1 Heat oven to 375 degrees F . Grease bottom & sides of 13 9 baking sheet.In bowl, mix 2 tsp of sugar/cinnamon. Sit apart .2 In bowl, whisk Bisquik, 2/3 c milk and 2 tsp sugar to smooth.If dough is too sticky, add enough Bisquik mix (up to 1/4 cup) to making it easier to work with. Turn the dough out onto the surface and sprinkle well with the Bisquik mixture; Gently roll dough into bisquick mixture to coat. Shape ball, knead Ten times.
3 Rolling dough to 15 by 9 inch rectangle; Grease with butter.Sprinkling with mix of sugar & raisins.Rolling tightly start at the 15 inch side.Wrapping tightly, holding edge of dough in a roll. cutting to 1/4 inch tranches; Placing cut sides in skillet.
4 Bake for 23 to 25 minutes or until golden brown. Cool for 5 minutes. Lift from skillet.5 In bowl, combine icing sugar and 2 tsp of milk to smooth.Spread the filling over the hot muffins.
Enjoy !