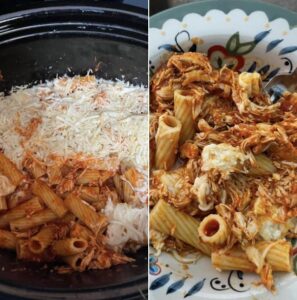 Crockpot Chicken Parm
48 oz Ragu Pasta Sauce (two 24-oz.
jars)
1 1/2 lbs. boneless skinless chicken
breasts
1/2 tsp. salt
1/2 tsp. pepper
1/2 tsp. oregano (or Italian
Seasoning)
1 lb. penne pasta cooked according
to package directions
3 cups shredded mozzarella cheese
1/4 cup Parmesan cheese
Add the chicken to a 6-quart or larger
slow cooker. Sprinkle over the salt,
pepper, and oregano. Pour over the
pasta sauce.
2
Cover and cook on HIGH for 4 hours
or LOW for 6-8 hours, without
opening the lid during the cooking
time.
3
When the cooking time is done,
prepare the pasta on the stove-top
according to the package directions.
4
While the pasta is cooking, shred the
chicken with two forks. You can do
this right in the slow cooker.
5
Drain the pasta very well. Add the
pasta to the chicken and sauce in the
slow cooker. Stir. Flatten the pasta
out into an even layer. Sprinkle over
the shredded mozzarella cheese and
parmesan cheese. Cover for 15 more
minutes, or until the cheese has
melted.
6
Serve and enjoy!