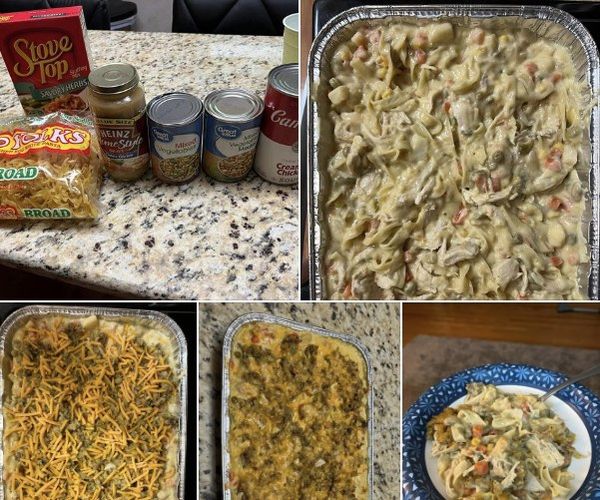 Creamy Chicken and Noodle Casserole
Ingredients:
3 Chicken Breasts
1/2 Bag of Egg Noodles
1 box of Stove Top Stuffing Savory Herbs
2 cans of mixed veggies, drained (you can use two types like mixed and medley)
1/2 can of value-size Heinz chicken gravy
1 family-sized can of cream of chicken soup
Salt, butter, garlic seasoning, and water
Instructions:
Preheat the oven: Preheat your oven to 400°F (200°C) while you prepare the ingredients.
Boil and Shred Chicken:

Place the chicken breasts in a pot of boiling water and add a pat of butter, salt, and garlic seasoning for flavor. Boil until the chicken is fully cooked. Remove the chicken from the water and shred it. Keep about half a cup of the water for later.

Cook Noodles:

Boil the egg noodles in the same water you used for boiling the chicken. You may need to add more water to ensure there's enough to cook the noodles. Cook the noodles for 8-10 minutes, so they are slightly underdone. Drain the noodles.

Prepare the Casserole Mixture:

In a large mixing pan, combine the shredded chicken, cooked noodles, drained mixed veggies, Heinz chicken gravy, and cream of chicken soup. Season with salt and garlic seasoning to taste.

Prepare Stuffing:

Follow the instructions on the Stove Top Stuffing Savory Herbs box to prepare the stuffing.

Assemble the Casserole:

Spread the prepared stuffing on the bottom of a baking dish.

Add Cheese:

Sprinkle a generous amount of cheddar cheese over the stuffing layer.

Layer the Casserole:

Pour the creamy chicken and noodle mixture over the stuffing and cheese layer, spreading it evenly.

Bake:

Place the casserole in the preheated oven and bake at 400°F (200°C) for about 35 minutes or until the stuffing is slightly crispy, and the casserole is heated through.

Enjoy:

Remove from the oven, let it cool for a few minutes, and then serve. Your Creamy Chicken and Noodle Casserole is ready to enjoy!
Serve a portion of the Creamy Chicken and Noodle Casserole on a plate, ensuring that all the delicious layers are visible.
Garnish with a sprinkle of fresh chopped parsley or chives for a touch of color.
Pair the casserole with a side salad or steamed vegetables to balance the meal.
Add a dollop of sour cream or a drizzle of hot sauce if you like a little extra kick.
Set the table with your favorite dinnerware and utensils, and enjoy this comforting and hearty casserole with your loved ones.
This Creamy Chicken and Noodle Casserole is a heartwarming and satisfying dish that's perfect for a cozy dinner or family gathering. Enjoy! 🤩❤️