Cream of Mushroom Pork Chops
Ingredients:
14 regular-cut pork chops
2 large cans of cream of mushroom soup
2 packets of onion soup mix
Pepper, to taste
Cooking oil spray
Mashed potatoes (prepared with real potatoes or instant potatoes)
Garlic bread (for serving)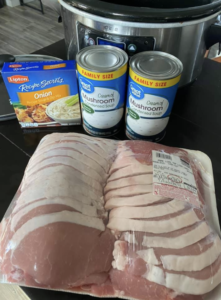 Instructions:
Prepare the Crock Pot:

Spray the crock pot with cooking oil spray to prevent sticking.

Layer the Meat:

Arrange the pork chops in the crock pot in a single layer. Sprinkle pepper over the pork chops. Avoid adding salt as the onion soup mix provides sufficient saltiness.

Mix Soup and Onion Soup Mix:

In a bowl, mix the cream of mushroom soup with the onion soup mix packets until well combined. The onion soup mix will add flavor to the gravy.

Pour Soup Mixture Over Meat:

Pour the soup mixture evenly over the pork chops in the crock pot, ensuring that each chop is covered.

Cook in the Crock Pot:

Cook on high for 4 hours. This allows the pork chops to become tender and absorb the flavors of the soup and onion mix.

Prepare Mashed Potatoes:

While the pork chops are cooking, prepare mashed potatoes. You can use real potatoes for a homemade touch, or for a quicker option, use instant mashed potatoes.

Serve with Garlic Bread:

Once the pork chops are cooked, serve them over a bed of mashed potatoes. Spoon some of the delicious mushroom gravy over the top.
Garlic Bread:

Serve the Cream of Mushroom Pork Chops with garlic bread on the side for a complete and satisfying meal.

Enjoy with Family:

Gather your family around, enjoy the hearty meal together, and savor the flavorful pork chops with creamy mushroom gravy.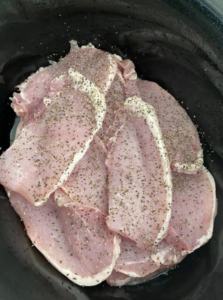 Note: This recipe is designed to provide three meals for your family, with enough gravy for both the meat and mashed potatoes, ensuring you have leftovers for the next day. Feel free to adjust the quantities based on your preferences.
Certainly! Here are some questions and their answers related to the Cream of Mushroom Pork Chops recipe:
Q: Can I use boneless pork chops for this recipe?

A: Yes, you can use boneless pork chops if you prefer. However, bone-in chops may add extra flavor to the dish.

Q: Is it necessary to brown the pork chops before placing them in the crock pot?

A: Browning the pork chops before cooking is optional but recommended for enhanced flavor and visual appeal.

Q: Can I use a different type of mushroom in the cream of mushroom soup mixture?

A: Absolutely! Feel free to customize by adding your favorite mushrooms or sautéed mushrooms for extra depth.

Q: What can I substitute for the onion soup mix if I don't have it?

A: You can make a simple substitute by combining dried onion flakes, garlic powder, and a pinch of salt.

Q: How long should I cook the pork chops on low heat if I choose that option?

A: Cooking on low for 6-8 hours can result in more tender pork chops. Adjust the time based on your preference and schedule.

Q: Can I freeze the leftovers?

A: Yes, you can freeze leftover Cream of Mushroom Pork Chops in an airtight container. Reheat in the oven or on the stovetop for best results.

Q: What side dishes pair well with this recipe?

A: Creamy mashed potatoes and garlic bread are classic choices. You can also add a side of green vegetables like steamed broccoli or green beans.

Q: Can I make my own cream of mushroom soup for this recipe?

A: Absolutely! Homemade cream of mushroom soup can add a personal touch and richer flavor to the dish.

Q: What type of white wine works best in this recipe?

A: Use a dry white wine like Chardonnay or Sauvignon Blanc. If you prefer not to use wine, you can substitute with chicken or vegetable broth.

Q: Should I let the pork chops rest before serving?

A: Yes, allowing the pork chops to rest for a few minutes after cooking helps retain their juices and ensures a moist and flavorful result.