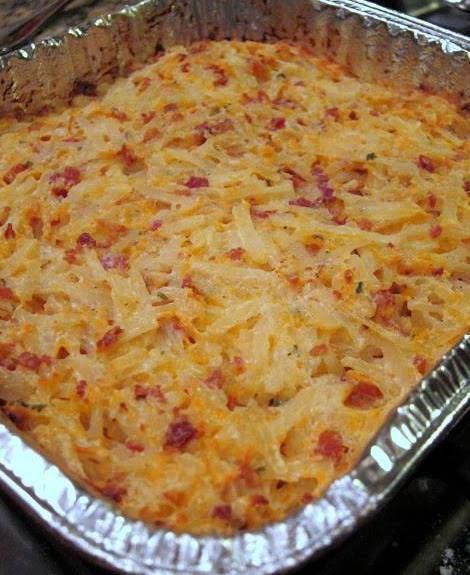 My husband and I have both made this recipe. I am the queen of no time and quickness, so I modified the ingredients a bit to suit my taste. To each his own!. I substituted bacon pieces from a bag and added 2 tablespoons of bacon grease, for authenticity. I added salt, white pepper, and Tony Chachere's Original Creole seasoning for kick and last I used sharp white cheddar and pepper jack cheese. Now, this pan of Crack Potatoes didn't even last till the next day! My 83-year-old mother, a hard palate -nut -to -crack had 2 helpings!
Ingredients
cooking spray
1 (32 ounces) package of frozen hash brown potatoes, thawed
1 (16 ounces) container of sour cream
8 slices of cooked bacon, crumbled
1 (1 ounce) package ranch dressing mix
2 cups shredded Cheddar cheese, divided, or more to taste
Directions
Preheat the oven to 350 degrees F (175 degrees C). Grease a 13X9-inch baking pan with cooking spray or butter.
Combine hash browns, sour cream, bacon, ranch mix, and 1 cup Cheddar cheese in a large bowl; stir until well mixed.
Spread into baking pan; cover with aluminum foil.
Bake in the preheated oven for 45 minutes. Remove foil; sprinkle remaining Cheddar cheese evenly across potatoes. Bake until cheese is bubble and lightly browned around the edges, about 15 minutes.
Nutrition Facts
Per Serving:
425.4 calories; protein 17.1g 34% DV; carbohydrates 24.9g 8% DV; fat 35.4g 55% DV; cholesterol 74.4mg 25% DV; sodium 802.5mg 32% DV