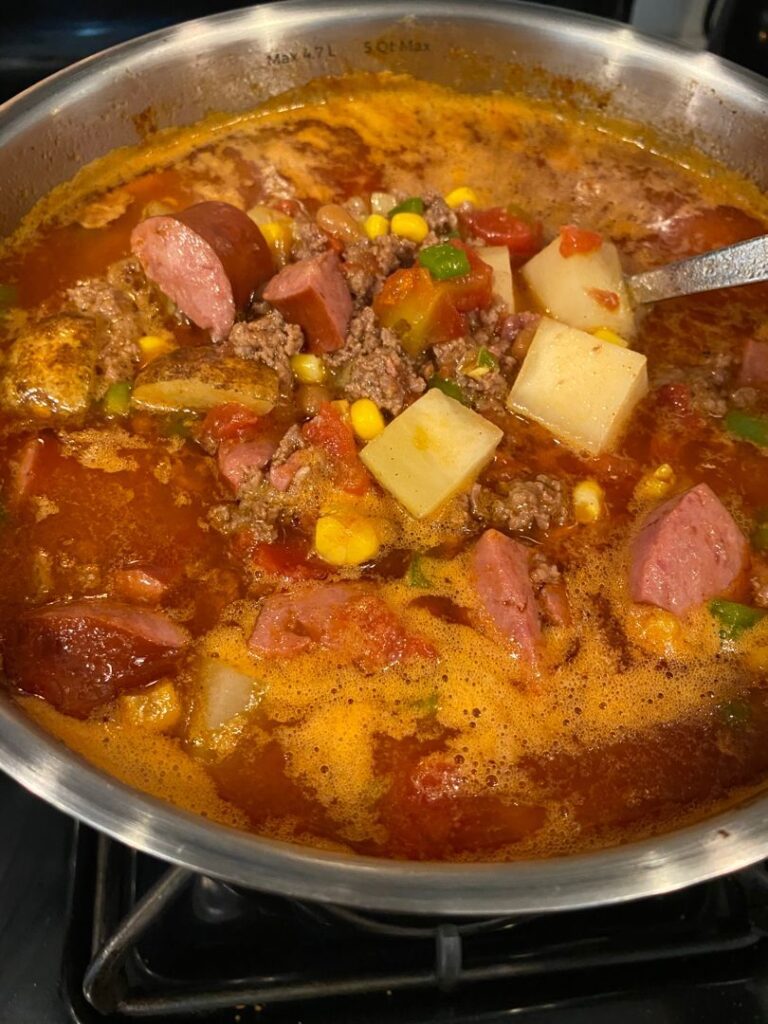 Sometimes, when you are out somewhere far away from civilization and needing nourishment, the best dish is something warm, hearty, and filling.
This is why this stew has such a fitting name; you can't just imagine cowboys across the Western prairies of North America cooking this in a giant pot or in a cast iron pan over an open fire.
Packed to the brim with meat, beans, potatoes, and vegetables, this is the kind of dish that contains all of the calories you could possibly need for an entire day out on the ranch or cattle rustling.
While the original recipe was likely prepared with a lot of slapdash, fast cooking, meaning mostly just chuck everything in the pot and let it cook, there is nothing stopping you from putting a few extra tweaks and touches onto this recipe to make it extra special.
Should You Cook Your Cowboy Stew Longer?
This stew has a pretty quick cook time as far as most stews go. Other than the browning of the meats and the specific steps in adding ingredients, this cowboy stew recipe cooks in under an hour.
There is nothing particularly wrong with cooking it longer, however. In fact, cooking it longer might actually result in some really great flavor development, especially over a longer time.
To cook this stew longer, lower the heat a tad and let it go until the beef is nice and soft and the sausage has rendered out all of its leftover fat and become super malleable and tasty.
Don't cook it all day, though; even if it is tempting to leave your stew cooking for 10 hours, after a certain point, you will begin to hit points of diminishing returns.
If you cook it too long, the meat will start to get particularly chewy and overdone, resulting in some pretty bad textures, as well as the beans turning to mush.
So while you can certainly cook this recipe longer if you want to, make sure that you don't take it too far.
Make Ahead Tips:
This one-pot wonder comes together pretty quickly thanks to those canned goodies! The various meats can't be cooked ahead because you need them to build the flavor for your stew, but you can always chop the onions, garlic, potatoes, and kielbasa ahead of time.
The onions and garlic can be stored together, and the kielbasa can go in a sealed plastic bag — all of it can sit for up to a week in the fridge.
How Long Can You Keep This In The Fridge?
Store your cowboy stew leftovers in an airtight container, and they'll last in your fridge for up to four days. If saving space is a priority, you can put your cooled cowboy stew in a gallon-sized Ziploc.
It does tend to thicken a little as it sits in the fridge so you may need to thin it out with a little water when you reheat it.
Can You Freeze This?
Yes and no. This cowboy stew recipe is fantastic for meal prep and it always helps to have a ready-made meal in the freezer. But the potatoes can be quite finicky in freezing temps, so you may want to leave those out — you can always add canned potatoes to this when it's time to serve!
Can you reheat Cowboy Stew?
Place the stew in a pot at low temperatures. You may need to add some broth or water to allow appropriate moisture for your stew.
Let the stew simmer until warm, stirring often. It will only take about 15-20 minutes to reheat the stew. Be careful not to overcook.
WHAT I LOVE ABOUT THIS RECIPE
This ain't your mama's stew recipe! Loaded with three types of meat and tons of veggies, this stew is the lip-smacking dinner your family's been waiting for.
Serving Recommendations:
This cowboy stew recipe goes with pretty much any favorite chili and stew sides! Cornbread, crackers, a dollop of sour cream — you name it, it'll taste great. If you want to take this stew recipe to the next level, you can always do a play on beefaroni by adding elbow macaroni! Or toss in some egg noodles for beef and noodles taken to the max. It's so easy to make this delicious dish taste even better!
RECIPE VARIATIONS:
This cowboy stew recipe is downright good eatin' on its own, but here are some fun tweaks!
Up your grains by adding barley + more liquid to get beef barley soup.
Leave out the kielbasa and add some frozen mixed vegetables to make hamburger stew.
Go all pork with bacon, brats, and ground pork for a delicious pork stew.
Make sure you get your veggies by adding in all your favorite green picks with vegetable beef soup.
Let's play up Taco Tuesday with zesty Mexican flavors in taco soup!
Ingredients:
Cowboy Stew Recipe: A Tasty And Heartwarming Dish
2 pounds of ground beef
2 (16 ounces) packages of kielbasa sausage, sliced into 1/2 inch pieces
2 cloves garlic, chopped
1 onion, chopped
2 (14.5 ounces) cans of peeled and diced tomatoes, drained
4 medium baking potatoes, peeled and diced
2 (15 ounces) cans of pinto beans, with liquid
2 (15.2 ounces) cans of whole kernel corn, with liquid
1 (14.5 ounces) can of diced tomatoes with green chile peppers, with liquid
1 (10 ounces) package of frozen mixed vegetables
4 cups of water
2 teaspoons ground cumin
2 teaspoons chili powder
1 pinch of salt and pepper to taste
Directions:
Step 1: In a large skillet, crumble the ground beef and cook over medium-high heat. Sautee the sausage, garlic, and onion. Continue cooking until the meat is no longer pink. Then, drain off any excess grease before transferring it to a large pot.
Step 2: Add the tomatoes into the pot and stir in the potatoes, pinto beans, corn, diced tomatoes with chilies, mixed vegetables, and water.
Step 3: Season the beef with cumin, chili powder, salt, and pepper.
Step 4: Simmer over medium-low heat, covered, for about an hour, stirring occasionally.
Step 5: The longer you cook the stew, the better it gets. Serve accordingly. Enjoy!
Ingredients:
Cowboy Stew Recipe: A Tasty And Heartwarming Dish
2 pounds of ground beef
2 (16 ounces) packages of kielbasa sausage, sliced into 1/2 inch pieces
2 cloves garlic, chopped
1 onion, chopped
2 (14.5 ounces) cans of peeled and diced tomatoes, drained
4 medium baking potatoes, peeled and diced
2 (15 ounces) cans of pinto beans, with liquid
2 (15.2 ounces) cans of whole kernel corn, with liquid
1 (14.5 ounces) can of diced tomatoes with green chile peppers, with liquid
1 (10 ounces) package of frozen mixed vegetables
4 cups of water
2 teaspoons ground cumin
2 teaspoons chili powder
1 pinch of salt and pepper to taste
NUTRITION:
Serving: 1/8 of the recipe | Calories: 745kcal | Carbohydrates: 52g | Protein: 38g | Fat: 45g | Saturated Fat: 15g | Polyunsaturated Fat: 1g | Monounsaturated Fat: 1g | Cholesterol: 125mg | Sodium: 2049mg | Potassium: 508mg | Fiber: 7g | Sugar: 15g | Vitamin A: 158IU | Vitamin C: 6mg | Calcium: 29mg | Iron: 2mg
I created a fun channel on  Telegram and I would love for you to join us! It's a place where you can share YOUR favorite recipes, ask questions, and see what's new at Dinners, Dishes, and Desserts (so that you never miss a new recipe)! If you'd like to check it out, you can request to join HERE

IF YOU LIKE THIS RECIPE…YOU MAY ALSO LIKE: