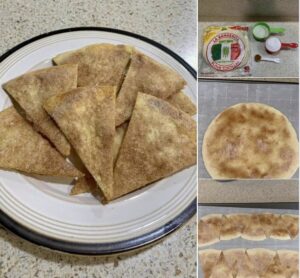 Cinnamon Tortilla Chips: A Sweet and Crispy Delight
Mini Presentation: Craving a quick, sweet, and crunchy snack? Look no further than our Cinnamon Tortilla Chips! Made with simple ingredients and ready in a snap, these chips are a delightful treat for any occasion. When you bake them, the warm and comforting aroma of cinnamon will fill your kitchen.
Ingredients:
Flour Tortillas
6 Tbsp Butter, melted
1/2 Cup Sugar
1 tsp Cinnamon
Instructions:
Begin by preheating your oven to 350°F (175°C) and prepare a baking sheet. You can line it with parchment paper or lightly spray it to prevent sticking.
In a small bowl, mix 1/2 cup of sugar with 1 teaspoon of cinnamon. This sweet and aromatic blend is the key to the chip's delightful flavor.
Take a flour tortilla, place it on the prepared baking sheet, and generously spread melted butter over the entire surface. The butter adds richness and helps the cinnamon sugar mixture stick.
Sprinkle the sugar and cinnamon mixture evenly across the buttered tortilla. Every bite will be kissed with sweet and spicy goodness.
To create the classic tortilla chip shape, use a pizza cutter to slice the tortilla into triangles, just like you're slicing a pizza. Make as many as you need, depending on the number of tortillas and the remaining butter, sugar, and cinnamon mixture.
Pop the baking sheet in the preheated oven and bake for 8-10 minutes, or until the chips turn golden brown and crispy.
Once they're out of the oven, let them cool for a moment, then enjoy the wonderful aroma as you munch on these Cinnamon Tortilla Chips. They're perfect for satisfying your sweet cravings.
With minimal effort and a few ingredients, you can whip up a batch of these delectable homemade chips that will be an instant favorite. Don't forget to share; they disappear quickly! 🤤🌮🍬