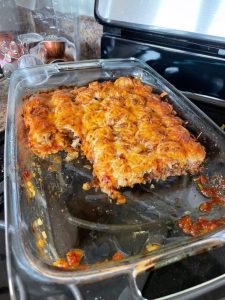 CHEESY TATER TOT MEATLOAF CASSEROLE 
How To Make :
2 eggs, large
2 pounds lean ground beef
30 Ritz crackers
1 c. ketchup
2 ounces Lipton onion soup mix
24 ounces frozen tater tots
1 c. Sweet Baby Ray's Hickory & Brown Sugar barbecue sauce
¼ c. real bacon bits
2 c. shredded mozzarella and cheddar cheese blend
STEPS :
Step 1: Prepare the oven. Preheat it to 350 degrees F.
Step 2: Into a small mixing bowl, place the ketchup and barbecue sauce. Mix well until blended and set aside.
Step 3: Into a large mixing bowl, place the ground beef.
Step 4: In a large Ziplock bag, place the Ritz crackers. Seal the bag and crush the Ritz crackers using a rolling pin.
Step 5: Into the bowl with the ground beef, transfer the crushed Ritz crackers. Then, add the onion soup mix along with the eggs, half c of the ketchup, and half c of the barbecue sauce. Mix using your hands until the mixture is just combined.
Step 6: Into a greased 9 x 13-inch baking dish, press the meat mixture. On top, spread the rest of the ketchup and barbecue sauce mixture. In a single layer over the sauce, place the frozen tater tots and sprinkle with the shredded cheese and bacon bits.
Step 7: Using foil, tent the baking dish. Place in the preheated oven and bake for about 35 minutes. Uncover and bake the casserole for additional 40 minutes or until the ground beef is completely cooked.
Step 8: When done, take the casserole out of the oven and let it rest for a couple of minutes.
Step 9: Slice the casserole and serve.