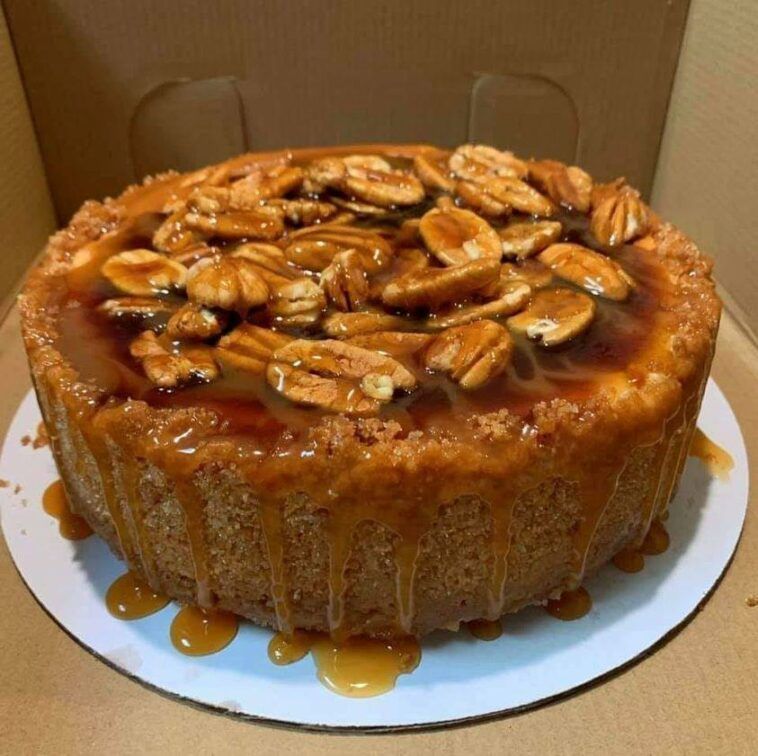 INGREDIENTS:
1 ½ cups graham cracker crumbs
¼ cup sugar
6 tablespoons butter, room temperature
6 (8-ounce) packages of cream cheese, room temperature
1 ½ cups sugar
1 ½ teaspoons vanilla extract
Pinch of salt
6 large eggs
¾ cup purchased salted caramel sauce, such as Jeni's Splendid Ice Cream's Salty Caramel Sauce or cook's preference, divided use
2 tablespoons bourbon
12 pralines, chopped
DIRECTIONS:
Preheat oven to 350 degrees. Combine graham cracker crumbs, sugar, and butter in the bowl of a food processor or stand mixer.
Blend until crumbs stick together. Press crumbs onto the bottom of a 10-inch springform pan with 3-inch-high sides. If an outer edge of the crust is desired, press crumbs up 2 inches on the sides. Bake crust for 10 minutes. Cool.
Reduce oven temperature to 300 degrees. In the bowl of a mixer with a paddle attachment, mix cream cheese until soft. Add the sugar, vanilla, and salt; mix on low until very smooth. Remove the bowl from the mixer; scrape the sides of the bowl. Return the bowl to the mixer.
Slowly add eggs just until blended, stopping occasionally to scrape sides of the bowl. Carefully add and fold ½ cup of salted caramel sauce and bourbon into the mixture. Pour batter into the crust.
Wrap foil around the outside of the cheesecake pan. Place a sheet tray or larger pan underneath the wrapped cheesecake. Slowly add water to the pan to create a water bath approximately 2 inches deep.
Carefully place the cheesecake in the oven. Bake until its center is set and the rest of the cake has a uniform jiggle, at least 50 minutes.
Start checking the cake after 30 minutes. If the top gets too dark, gently cover it with foil. Remove the cake from the oven as well as the water bath pan. Cool to room temperature, and then cool completely in the refrigerator. When ready to remove from the pan, gently run a knife around the outside edge of the cheesecake and unlock the springform. Cover the top with ¼ cup of caramel sauce and chopped pralines. Cut and serve from the bottom pan or carefully slide a cardboard cake circle underneath