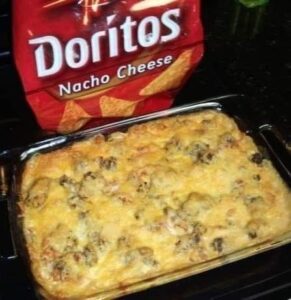 Bold and Crunchy Dorito Casserole: A Flavor Fiesta!
Mini Presentation: Unleash your taste buds with our Dorito Casserole – a zesty and satisfying dish that's sure to become a family favorite. Packed with vibrant flavors and the irresistible crunch of Doritos, this casserole is a true crowd-pleaser. Let's dive into the recipe and prepare for a flavor fiesta!
Ingredients:
2 (10 1/2 ounce) cans cream of mushroom soup
1 1/2 cups water
1 (10 ounce) can Rotel Tomatoes, chopped
1 (13 -16 ounce) bag Doritos
1 1/2 cups chopped onions
1 lb ground beef
1 cup grated cheddar cheese
Instructions:
Preheat your oven to 350 degrees, getting ready for the flavor-packed adventure ahead.
In a saucepan, bring to a boil the cream of mushroom soup, water, and zesty Rotel Tomatoes with their irresistible kick. Let the flavors meld as they simmer.
While your sauce is simmering, it's time to prepare the ground beef. In a separate pan, cook the chopped onions and ground beef until the beef is perfectly browned and the onions are translucent.
Now, let's build the layers of flavor! In a casserole dish, start by creating a layer of slightly crushed Doritos. This will be the foundation for your flavor fiesta.
Add a layer of the cooked ground beef, followed by a layer of the simmered soup mixture. Repeat these layers until all your ingredients are used, creating a vibrant, textured masterpiece.
For the finishing touch, generously sprinkle the top with grated cheddar cheese. The gooey cheese will melt into a golden crown, adding creaminess and richness.
Bake your Dorito Casserole in the preheated 350-degree oven for 25-30 minutes. As it bakes, your casserole will transform into a melty, crunchy, and bold creation.
Once it's done, serve and enjoy this flavor fiesta with your loved ones. Whether you serve it for a weeknight family dinner or a weekend gathering, this Dorito Casserole is a true crowd-pleaser that will have everyone coming back for seconds.
Extra Tip: For an extra twist, consider adding canned beans and cooked rice to this casserole. It's a customizable dish that's all about your taste preference!
Get ready to savor the bold and crunchy goodness of our Dorito Casserole. It's a flavor fiesta you won't want to miss! 🧀🍅🌮😋