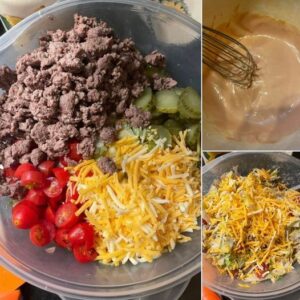 Indulge in the flavors of a classic Big Mac with a delightful twist in this easy and budget-friendly Big Mac Salad. Packed with crisp lettuce, seasoned ground beef, cherry tomatoes, dill pickles, and shredded cheese, it's a filling and delicious meal that won't break the bank. Drizzled with a homemade special sauce, this salad captures the essence of the iconic burger. Simple, satisfying, and perfect for a quick weeknight dinner.
Ingredients:
Salad:
1 head of iceberg lettuce, cut up
1 lb ground hamburger, seasoned with garlic powder and a pinch of salt
1 cup cherry tomatoes, cut in half
1 cup dill pickles, cut into pieces
1 cup shredded cheese
Dressing:
1/2 cup real mayo
1/4 cup ketchup
1 teaspoon white vinegar
1/2 teaspoon salt
Instructions:
Prepare the Salad:

In a large bowl, toss the cut-up iceberg lettuce.
In a skillet, cook the seasoned ground hamburger until browned and cooked through.
Add the cooked ground beef on top of the lettuce.
Scatter cherry tomatoes, dill pickles, and shredded cheese over the salad.

Make the Dressing:

In a small bowl, mix together real mayo, ketchup, white vinegar, and salt. Adjust the quantities to your taste preferences.

Combine and Serve:

Drizzle the dressing over the salad.
Toss everything together until well coated with the dressing.
Serve immediately and enjoy your satisfying and wallet-friendly Big Mac Salad!
Pro Tips:
Customize your salad by adding onions, sesame seeds, or a sprinkle of sesame oil for an extra flavor boost.
For a lighter version, use lean ground beef or turkey.
Double the dressing recipe and keep it on the side for those who enjoy an extra kick of flavor.
This Big Mac Salad is not only a cost-effective alternative but also a delicious way to satisfy your burger cravings in a healthier, salad form. Enjoy this easy-to-make and delightful meal!