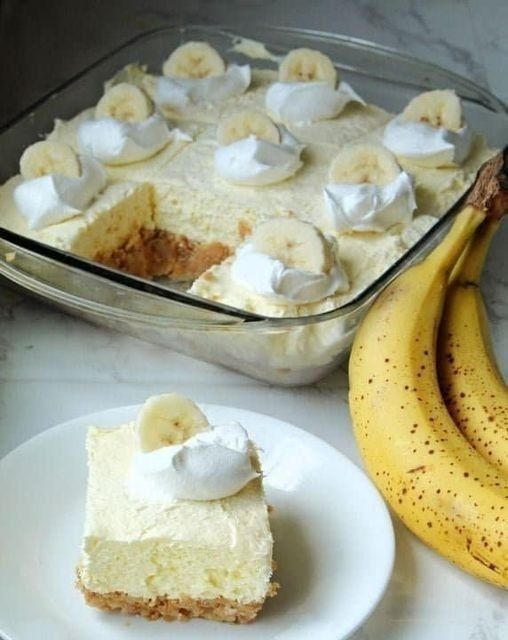 A friend of mine couldn't make up her mind between banana cream pie and cheesecake for her birthday, so I came up with this rich and creamy concoction. The vanilla cream topping takes a little extra time to make but it really completes the dessert!
Fabulous recipe! Hyatt included every step to prepare this cheesecake making it easier for anyone who has never before tried to make a cheesecake. It came out perfect the best consistency of any I've made!
If you like bananas and banana desserts you will love this cheesecake. I only made the crust and the cheesecake (no topping) and used 4 bananas and no banana liqueur.
Excellent. Everyone about 15 people absolutely loved it. The only change I made was to use vanilla beans instead of extract in the topping.
this was amazing! Everyone loved it and thought it was delicious. I did make some changes though. Very minor, however. I put 5 bananas in the cheesecake mixture in order to make it thicker.
INGREDIENTS :
Crust :
2¼ cups Nilla wafer crumbs
10 T. melted butter
3 T. sugar
Cheesecake :
24 ounces soft cream cheese
1 cup of sugar
3 T. flour
¼ cup sour cream
1 cup pureed bananas (I used a food processor)
3 eggs
Bavarian Cream :
1 tsp powdered gelatin
2 T. whole milk
2 egg yolks
½ cup heavy cream
2 T. sugar
¾ tsp vanilla
⅔ cup heavy cream
5 T. powdered sugar
Whipped Cream for Piping :
½ cup heavy cream
¼ cup powdered sugar
½ tsp vanilla extract
Fresh bananas, sliced for garnish
PLEASE USE THE NEXT PAGE BUTTON  FOR THE INSTRUCTIONS