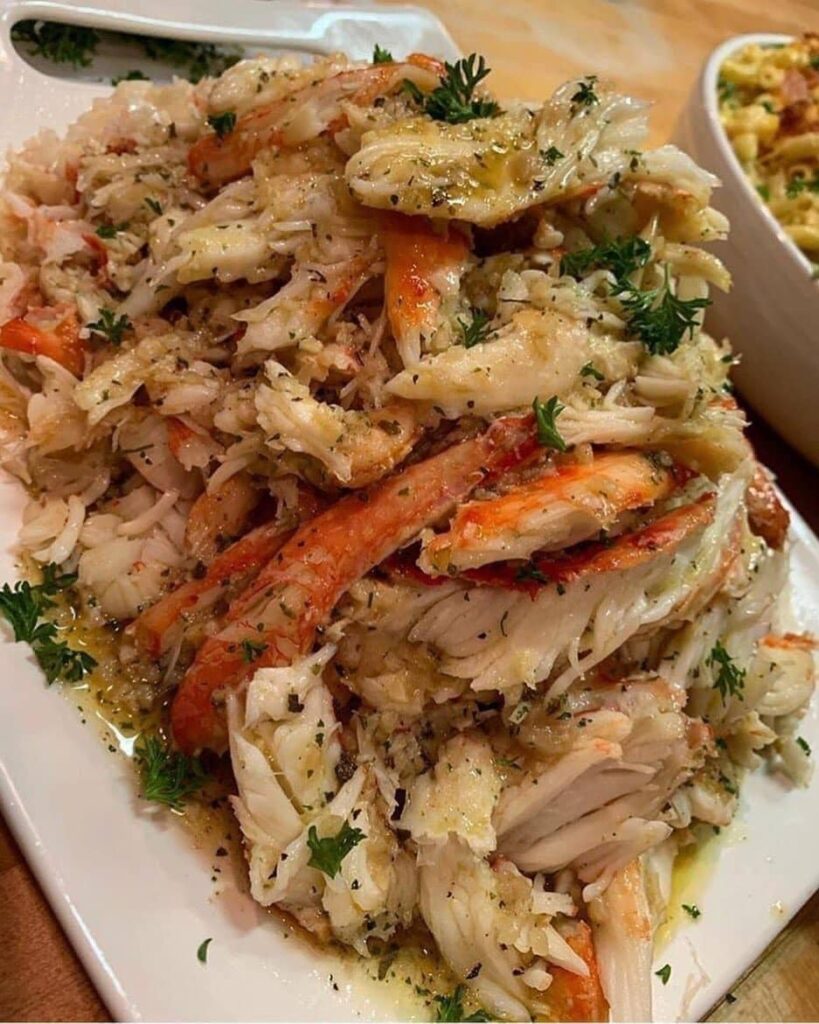 The Best Baked Crab Legs!
Baked Crab Legs is a luxurious meal, perfect for holidays and celebrations alike! The natural flavors in King crab meat are rich in a way similar to fresh lobster – so delicious! Chances are, if you like one, you'll love the other. I was fortunate enough to grow up eating crab often with my family, and to this day it is one of my favorite seafood dishes. Plus, it could not be easier to make!
Typically, crab legs that you buy from a store are already cooked! The most gentle method for enjoying crab at home is to bake it.
why you'll love it so much:
Practically no prep time, hands-off cooking, and unlikely to overcook the crab meat!
You don't have to cut the large legs into smaller pieces (unless you really want to)!
No large pots of water to bring to a boil or fussing with steam baskets
This baked crab legs recipe was written out for Alaskan king crab legs, but we're including instructions below for using snow crab or Dungeness crab legs if that's what you're working with!
Either way, have plenty of hot melted butter ready to dip the crab in!
What Type Of Crab Should I Use For Baked Crab Legs?
We're using King crab legs, which reign supreme when it comes to crab meat. What's the difference between king crab and Dungeness crab or snow crab?
Dungeness crab: Similar in flavor to king crab, but shorter and contains much less meat.
Snow crab: The most similar to king crab. They're smaller in size, but slightly sweeter. A great substitute if you can't get king crab locally and/or want something a bit more economical and budget-friendly.
Blue crab: This East coast delicacy is only in season between April and December. Most often served with Old Bay, these are the smallest crabs of the bunch. So small, in fact, that they're served whole, unlike the other types of crabs where you typically buy only the legs.
Fresh Crab vs Frozen Crab Legs
Most King crab is sold fresh and frozen. What this means is that the crab legs were cooked shortly after the crab was caught, then immediately frozen to lock in freshness. We suggest you let the frozen crab legs thaw overnight in a refrigerator before baking.
Using frozen crab instead? No problem! Simply increase the cooking time by about 10 minutes, regardless of whether you're using snow crab, king crab, or Dungeness crab.
Can I Add Seasonings?
You can, but it's totally not necessary! Lots of people toss crab with creole seasoning or Old Bay seasoning (we get it, it's delicious! check out our famous crab cake recipe here!), but there is something so enjoyable about fresh, sweet crab meat with melted butter that needs nothing more than a squeeze of lemon.
Chives and fresh parsley? They make for a pretty garnish, but legit not needed for serving!
Our Best Tips!
Check baked crab legs for doneness at the beginning of the allotted cook time. For instance, check king crab legs at 15 minutes (not 20 minutes) to ensure you don't overcook them! Remember, king crab legs are already cooked — you're just warming them through in a preheated oven.
How will I know when the crab is cooked through? Again, they're already cooked! You're just warming them throughout. Their shells will turn bright orange and they should be sufficiently hot to the touch all the way around. That's it!
It can be difficult to crack the shells by hand. Use kitchen shears to cut! Crab shells are tough in general, but King crag shells are damn strong. We like to have 1 or 2 pairs of shears on standby for guests to cut through the shells easily.
Serve with a few tablespoons of melted butter and lemon wedges! Give each guest their own ramekin with hot melted butter, but serve the lemon wedges family-style in a small bowl. Guests can add fresh lemon juice as they please!
Ingredients:
– 500 g king crab legs.
– 2 TSP Creole seasoning.
Ingredients:
– 500 g king crab legs.
– 2 TSP Creole seasoning.
INSTRUCTIONS:
– I preheated the oven to 400 degrees F.
– I cut the crab legs in half and placed them on the baking sheet.
– In a small bowl, I added garlic, melted butter, and Creole seasoning, mix well. Then I added lemon juice.
– I brushed the crab legs with this sauce and baked them until the crab legs are heated through.
– For the topping, I used chopped parsley, and I served it with the remaining butter sauce and lemon wedges.
Nutrition:
Calories: 493kcal | Carbohydrates: 3g | Protein: 59g | Fat: 26g | Saturated Fat: 15g | Polyunsaturated Fat: 2g | Monounsaturated Fat: 6g | Trans Fat: 1g | Cholesterol: 261mg | Sodium: 1007mg | Potassium: 1211mg | Sugar: 1g | Vitamin A: 1006IU | Vitamin C: 12mg | Calcium: 163mg | Iron: 1mg
IF YOU LIKE THIS RECIPE…YOU MAY ALSO LIKE: