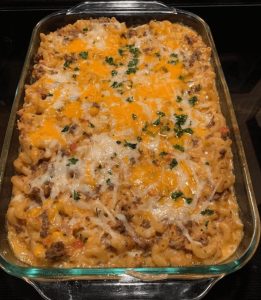 Baked Cheesy Chili Mac
Ingredients
2 lbs ground beef
1 lb (16 oz) penne pasta
2 1/2 cups Mexican cheese blend, grated and divided
2 cups (16 oz) sour cream
1 can (10 oz) diced tomatoes and green chilies
1 can (14 oz) crushed tomatoes, undrained
1 small onion, chopped
1-2 cloves garlic, minced
2 tablespoons chili powder
1/2 teaspoon ground cumin
Kosher salt and freshly ground pepper, to taste
Directions
Preheat oven to 350°F and lightly grease a 9×12-inch baking dish with nonstick cooking spray. Set aside.
Bring a large pot of salted water to a boil and cook pasta for 2 minutes less than the package directions indicate. Drain well.
Meanwhile, in a large heavy-bottomed pot, cook ground beef and onion over medium heat until beef is no longer pink, about 8 minutes. Add garlic and cook 2 minutes more.
Stir in tomatoes, tomatoes and green chilies, chili powder, and cumin. Season liberally with salt and pepper.
Add in drained pasta, as well as sour cream and 1 1/2 cups of cheese. Stir to combine. Transfer into prepared baking dish and top with remaining cheese.
Bake until bubbly and cheese is melted, about 20 minutes. Let sit 5 minutes before serving.