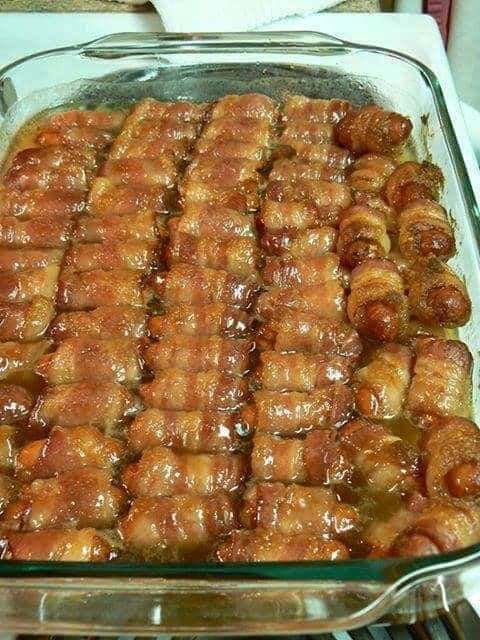 Helpful Reviews
I have made these several times for tailgating parties. I put the brown sugar in a Ziploc bag and shake a few pieces of bacon and a couple of smokies then wrap them up. I also sprinkle more brown sugar on top before baking. If your bacon isn't crisping up, put your pan under the broiler for a few minutes. Be careful, though, I almost caught the toothpicks on fire!
I made these for a weekly get-together with friends and was requested, nay DEMANDED to make these two days later for another party. WONDERFUL, EASY appetizer! TIPS: Definitely use foil on your pans when baking. Cook for first 25 minutes at 325 and the last 15 minutes at 350. Use center-cut, thin-sliced bacon and cut in half. Less fat and no need for toothpicks. Also if putting in a slow cooker to keep warm, pour half a cup (or so) of maple syrup in the cooker to help keep them moist. EXCELLENT RECIPE!
"Meat Candy" is what my BF called this. He requested a creamy horseradish dip to go along with it to balance the sweetness of the "meat candy". I will use the yummy "tiger dill sauce" recipe from Outback Steakhouse. Blend together: 2/3 C. Sour Cream, 1/4 C. Mayonnaise, 3 tsp. Prepared Horseradish 3/4 tsp. Sugar, 1/4 tsp Dill Weed.
Awesome recipe. I made these for our Christmas get-together this past weekend. Out of all the appetizers I served, this was the first one to go. To ease preparation, I prepared all of these the week before and froze them individually on cookie sheets. After they were frozen I put them into freezer bags and stored them until I needed them. I took them straight from the freezer and put them on a cookie sheet, sprinkled with brown sugar, and cooked them at 400o for about 30 minutes. They came out wonderfully and I will be making this recipe again! I still have some bacon-wrapped smokies in the freezer!
Definite Man Pleasers!!! Use maple-flavored bacon for extra flavor and disposable baking sheets. Cooked for 35 minutes and upped the temp to 450 the last 5 minutes or so which helped carmelize the brown sugar. Hint: If you chose to up the tempo, stand guard over your oven as these are apt to burn quickly if you're not careful.
I have made these several times & they ALWAYS disappear! I pre-cook the bacon in the micro till soft before wrapping & putting them in the oven. I also line a baking sheet with foil, put the doggies on a baking rack on the foil, & then sprinkle the brown sugar on. This prevents a nasty clean-up, and the sugar & bacon grease meld. I put the doggies in a crock & pour the grease/sugar mix over them, sprinkle more brown sugar on them, stir, and put the lid on the crock. It really makes a great sauce on them!! yum yum yum hubby & I LOVE these!
outstanding!! I've made these a couple of times for parties – and they always disappear so quickly! everyone raves about them! This last time i rolled them the night before (so i didn't have to prep the day of). dredged the bacon in brown sugar – and rolled and toothpick right in the brown sugar. put them all in a bowl and marinate in the fridge overnight (mm..you'll have a nice "brown sugary marinade" the next day). baked about 2 hrs before the party – 350 about 15-20 min then flipped them and baked 15 more min. Then put them all in a crockpot on low and poured the "juices" that were in the marinating bowl (mixed with 1/4 cup maple syrup) poured over the smokies in the crockpot. kept on "low/warm" for the entire party. mmmm….perfect!
Ingredients:
1 pound Bacon, Cut Into Thirds
1 pound Lil' Smokies (small sausages)
1 stick butter
2 cups Brown Sugar
PLEASE USE THE NEXT PAGE BUTTON  FOR THE INSTRUCTIONS